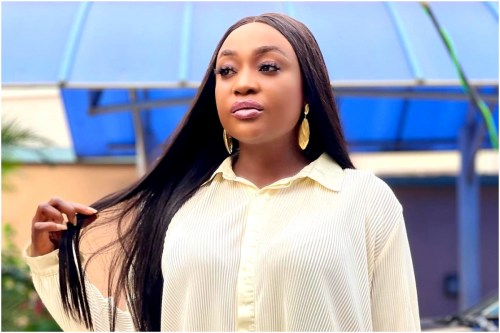 Nollywood actress, Lizzy Gold Onuwaje, well known as Lizzy Gold has recounted her experience in the hands of armed robbers at Onitsha, Anambra State.
In a video posted on her Instagram page, the actress narrated how she was attacked on her way to a movie set a couple of days ago, at Onitsha.
According to Lizzy, her friends, Destiny Etiko and Mary Igwe advised her not to embark on the journey, but she turned deaf ears.
She, nonetheless, urged Nigerians to be security conscious, as nowhere seems to be safe anymore.
In a viral video, Lizzy said;
Please let's be security conscious. Nowhere is safe. Two days ago which is on Sunday, I wrapped up my girlfriend's production. I told them I was leaving for Enugu because I had a job that I was going for. They have been waiting for me for like three days.
Destiny, Mary, they told me not to travel.
"I told them I needed to go because there is no movement on Monday. So, I told them I needed to go. And I left. I was in traffic at the head Bridge for like two hours. I successfully passed the traffic. I got to a route you would take to go to Awka. It is usually very fast for me so, I passed the road.
I met another traffic there. So, I was in traffic for another one hour. It was dark. It was 8.30 pm. All of a sudden, I heard a very loud bang on my side glass window.
I was shocked. So I winded down. I was like hello, then a guy came and said, "do you know you are on the wrong lane?" He was trying to bend my side mirror. So I started to beg him.
I told him I saw other cars passing through the same lane. The next thing, I wanted to wind up and he put my hands down and came in. Brought his head inside.
My PA was seated beside me. His partner went to the order side of the window. So, the guy brought his head inside the car and said, if you make any noise, I will shoot you."
He brought a gun and pointed at my stomach and told me to bring out everything that I have. He said I should give him my phone.
I told him to take money instead of my phone because he would not be able to use the iPhone. I brought money out, as I was giving it to him. He said I should tell my brother to bring out all the money he has. I told him the PA is not with any money. I begged them after they threatened to kill me.
See videos below;
View this post on Instagram
View this post on Instagram
The post "I'm Still In Pain From The Slap" – Actress, Lizzy Gold Recounts Robbery Experience || See Video first appeared on tooXclusive.